How

Amanotes used AppFollow to provide stellar customer support
and tapped into customer insights for their product strategy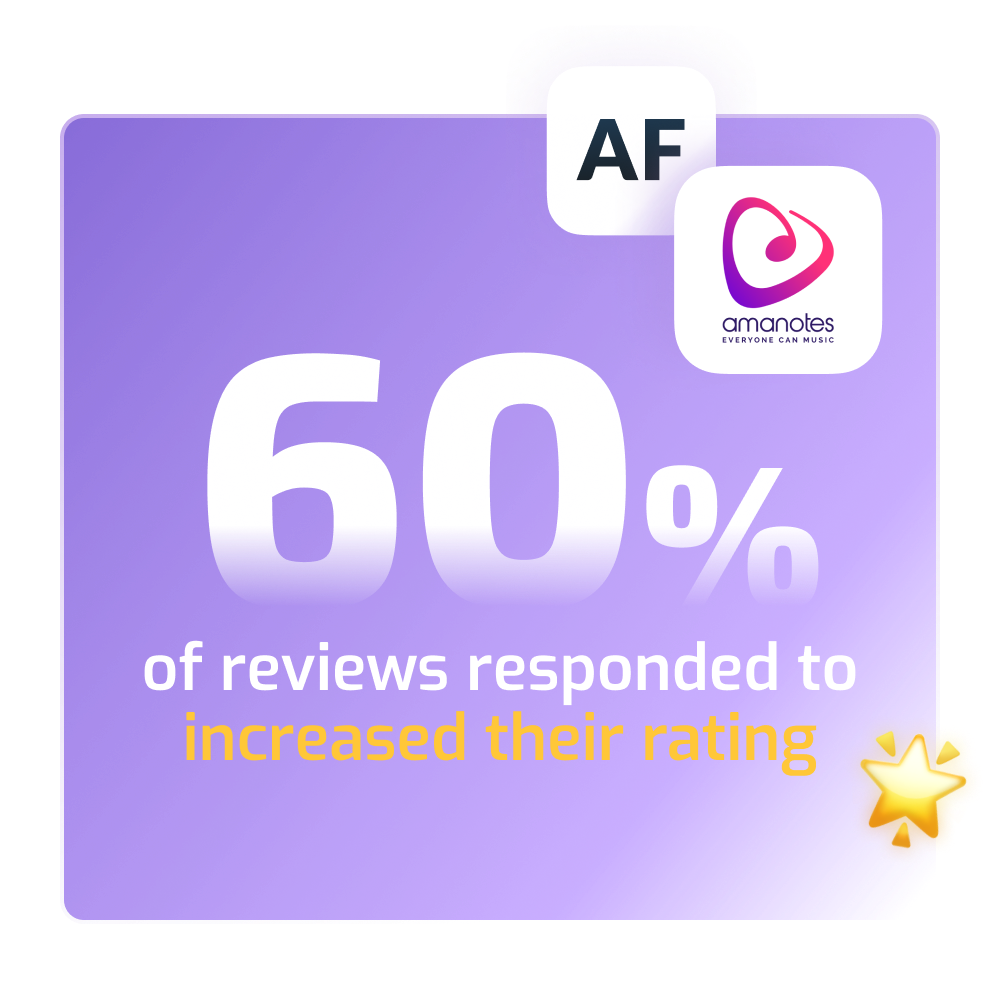 120M
monthly active users
Headquartered in Singapore with offices across Southeast Asia, Amanotes is a gaming app publisher with a global reach, with over 2 billion app downloads and 120 million monthly active users (MAU).
They have over thirty games on the app stores & have been listed as the #1 mobile app publisher in Southeast Asia & #1 music games publisher in the world. Their mission is to bring delight & joy to users of their games by providing 'magical musical experiences.'
What they

hoped to achieve

with AppFollow
1. Increase the response rate from an average of around 0.6%
2. Achieve a rating of 4.0 or higher for all their published games

4. Mass implementation of auto-reply automation across all games

Amanotes's pain points & use case
Last year, Amanotes were on the hunt for new ways to scale up their user acquisition strategy, while maintaining high customer satisfaction with their huge user base. They looked toward

building a response strategy

to deal with user reviews, which they predicted could bring in positive outcomes for the retention rate & user acquisition. Amanotes wanted to set up a system that would mass reply to their mountain of user reviews to see what return they got from doing so.
The logic they used to justify this was: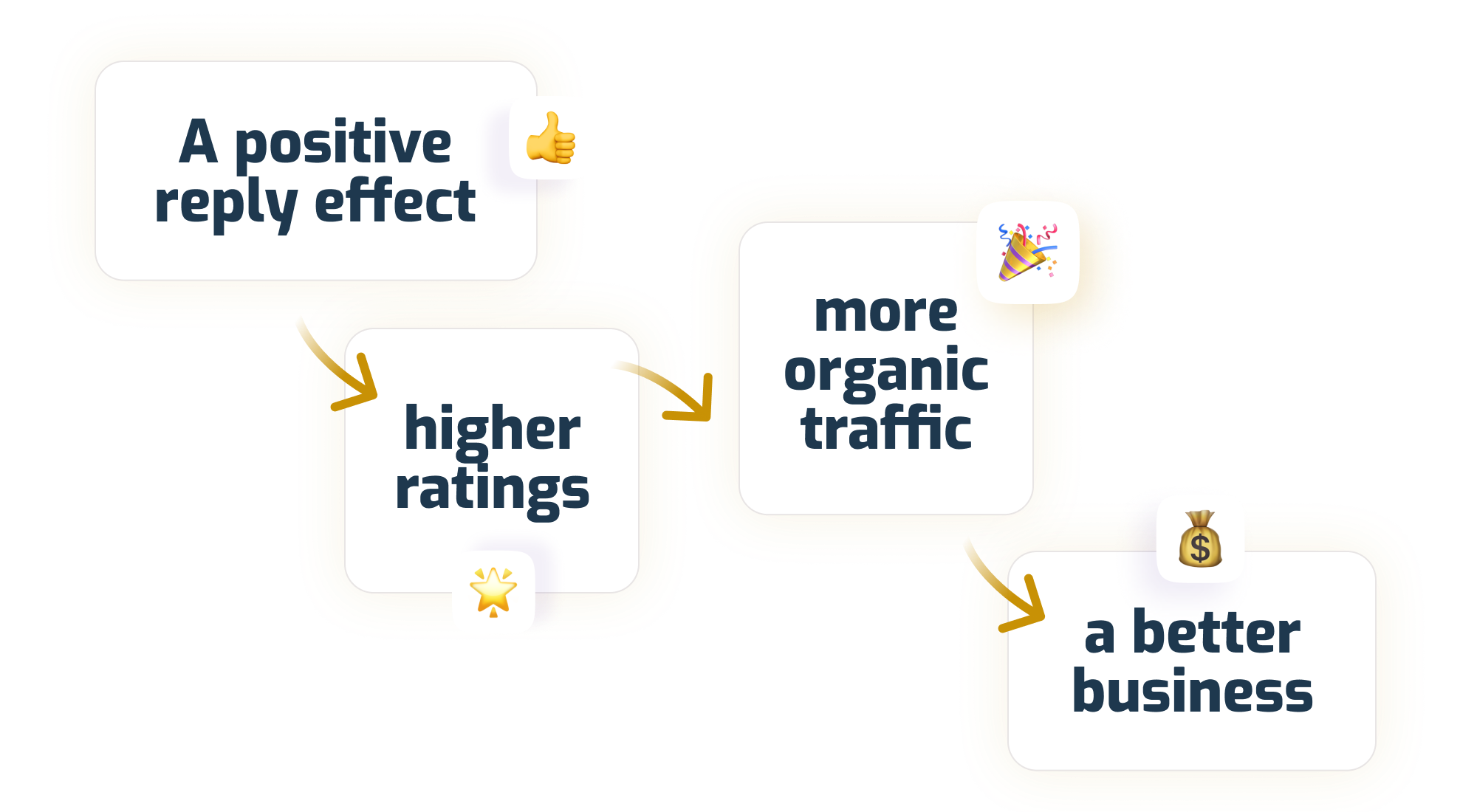 However, there was just one issue — though Amanotes wanted to tackle user reviews, they lacked the tools and infrastructure. The consoles on the Google Play Store & App Store were lacking in functionality when it came to implementing & tracking a review response strategy.
This led them to search for a third-party solution, before deciding to go with AppFollow.
Amanotes had lots of users leaving reviews, but with the large portfolio of apps that they were responsible for they didn't have the resources to tackle all of them. There was a growing pile of reviews without replies, which concerned them as it could eventually affect their store reputation and conversion rate. They needed the tools to help them scale a response strategy in a manageable way.
Auto-reply automation to the rescue
AppFollow's auto-reply tool changed the game for Amanotes. In August, they set up auto-reply automation to respond to a variety of reviews and made sure to track the results.
"We quickly started seeing a positive change in our metrics.

Within three weeks

of using AppFollow,
the reply effect became positive for most of our games."
Yaroslav Zakharchuk
Marketing Lead
During this period, Amanotes saw their reply rate shoot up for all their games, but especially Magic Tiles 3: Piano Game.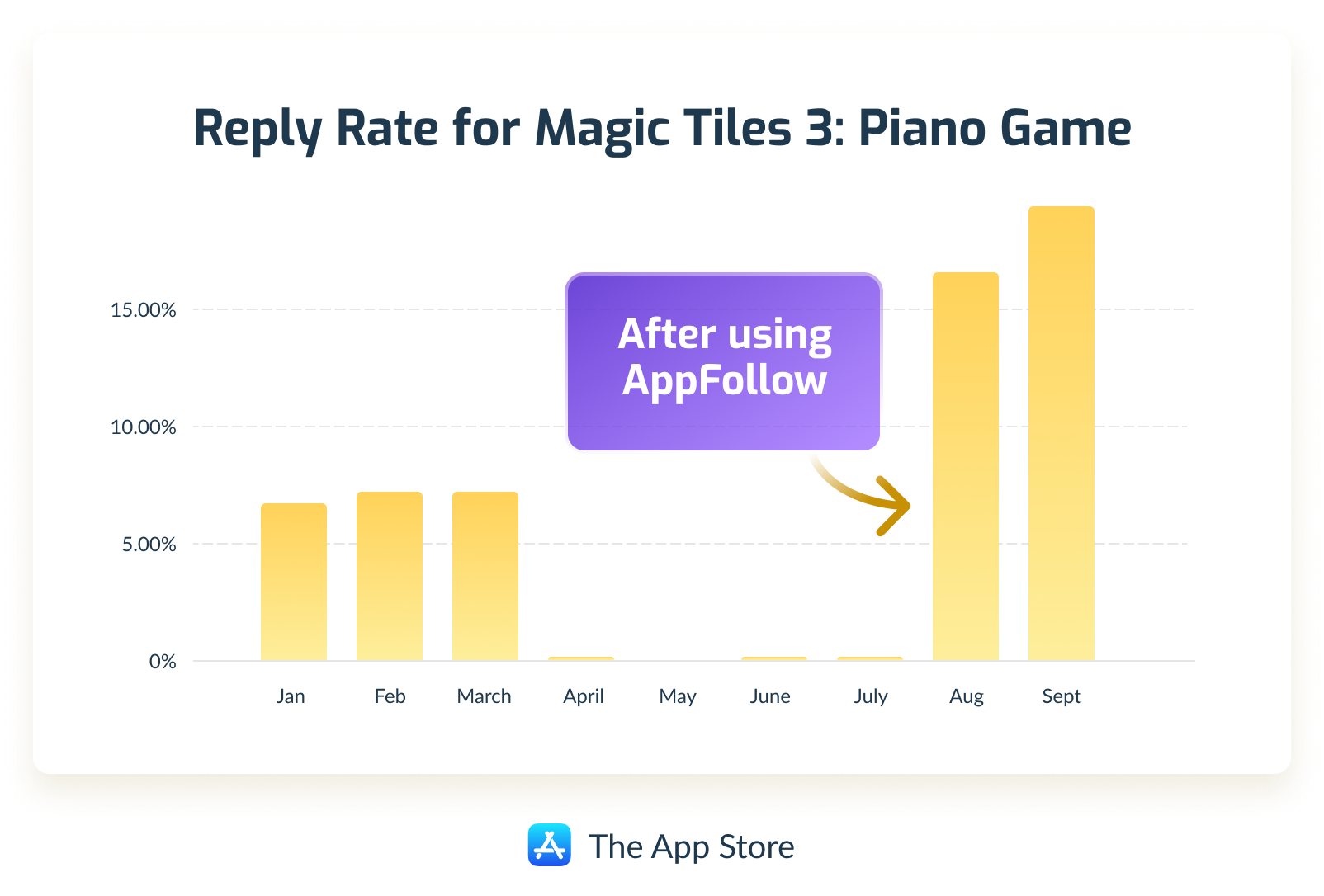 For the reviews that got responses, Amanotes also saw a positive impact on updated ratings. From the first month of using AppFollow

—

August 2021

—

they saw a spike of users improving their ratings: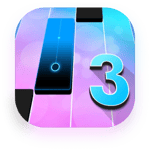 Magic Tiles 3: Piano Game
The App Store
increased their rating after a response in August —
up from

0%

in the previous months
Amanotes also found new insights about their product & users the more they used AppFollow.

By replying to reviews, users tended to update them and provide more information on their pain points, use cases and experiences. This new channel of communication with users also allowed Amanotes to experiment with the types of response templates to see what was most effective in sparking users to leave further insights in updated reviews.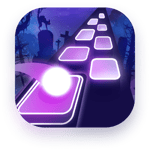 Tiles Hop: EDM Rush!
Google Play
increase their rating after a response —
up from 0% in the previous months
Semantic analysis:


seeing users with a clear lens

Most significantly, these insights were a rich source of qualitative data that has helped Amanotes better understand their users' needs. Through Semantic analysis, reviews were automatically tagged and categorized, offering a level of granularity that helped them understand what to prioritize.
The team could segment & track reviews according to the particular topic & user need, such as 'Ads', 'Subscription', and 'Bugs'.
Amanotes' user base is huge, and as previously mentioned, many reviews were left unanswered on the app stores. However, a decent chunk of reviews were not actionable or insightful to the team — such as one sentence reviews ("nice game!") or flamers (users saying irrelevant or negative things without providing reference to a specific element of the game). These could be easily tackled using auto-reply or Report a Concern automation.

How did

passing

customer

insights

across the business work?
The Amanotes team used Semantic tags to filter reviews which revealed product insights. These would be passed to a product analyst, who would sift through them. When the analyst found a hint of a valuable insight, such as on gameplay, content, or monetization, they would extract it and analyse it beside app usage before presenting both qualitative and quantitative data in a monthly presentation to the team. Based on the findings, there would be an informed decision on how to take action on the insights gathered.
This resulted in a watertight product feedback loop that provides Amanotes the insights they need to improve their product and customer experience.
"AppFollow provides a

scalable solution

for tapping into the vast amount of qualitative data that would otherwise remain neglected. We use semantic tags (like "Subscription") to filter for reviews that

reveal useful product insights
"
Yaroslav Zakharchuk
Marketing Lead
What did Amanotes

learn about their customers

through AppFollow?
By utilizing Semantic analysis, Amanotes learned that users who don't like ads aren't going to buy a VIP subscription to remove adverts. This was consistent with findings from app usage data, where they saw that the majority of their subscribers were paying for a subscription before even seeing any ads.
They also learned from reviews that their subscription price was too expensive, and many users preferred a one-time "Remove All Ads" In-app purchase (IAP) instead. Amanotes realized that providing this type of purchase could improve IAP revenue, retention, and app ratings at the same time.
Amanotes had also discovered via textual feedback that many of the negative ratings they'd received were from angry parents who were referring to inappropriate ads being shown to their children. These ads are handled by dozens of ad networks that Amanotes works with, but the low rating was something they could try and turn around. They understood that in order to retain these particular customers, there was a need for a solution to help the parents feel confident that their children remained safe whilst playing. They are now working on such a solution.
Another reason they learned for why users left low ratings was because of a lack of preferred content (such as songs from K-pop groups), but that these users were much more likely to update the review positively when responded to by the support team. This indicated to Amanotes that though these were sensitive users, they could easily won over with the right approach. Of course, all of this was discovered through AppFollow's Semantic analysis.
What is Amanotes

hoping to achieve

in the future?
Amanotes intends to expand into other categories in the mobile market – each with its unique type of user behavior & way of working. They're currently planning on building some exciting new apps, including an educational application with a gamified experience to help users learn piano. It will require extensive user feedback to help the developers understand how to make the game more effective. It's almost impossible to improve the app without understanding how users initially find following the lessons.

Amanotes is confident that AppFollow will help them succeed in getting this necessary user feedback via Semantic analysis, which is vital for them to make these new games as successful as their current ones.
AppFollow:
the trusted choice
AppFollow is highly rated by many clients who are leaders in their industries and have won a plethora of awards for high performance.